Are You Ready for Back to School 2017?!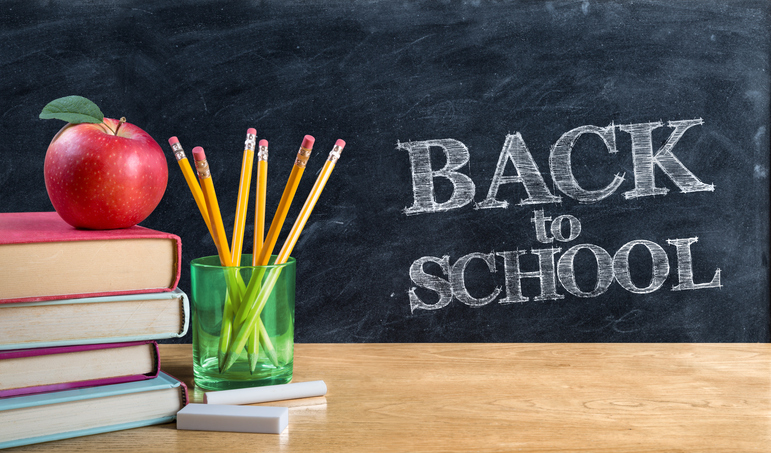 It is just 2 weeks until the beginning of the 2017 school year!
If the thought of your child starting school fills you with dread, you're not alone. Right now, thousands of parents across the country are asking themselves, "How am I going to get my child up on time, get him to do his homework and make sure he stays out of trouble this year?" Or perhaps this year marks the first year your child will be attending school. Or you may have an adolescent beginning their high school journey. Whatever your situation this time of year is both a time of anticipation of the school year ahead as well as a time of anxiety and apprehension.
Why is it so hard for parents and kids to get back in the groove when the school year rolls around? The answer is simple: holidays are different. There is less structure and more freedom. The bottom line is that the Christmas school holidays are usually a lot less demanding than the school year for kids and parents alike.
Making the transition back to school can be quite a change for everyone involved. Kids who've been sleeping in – teens who have been in bed till noon – now have to get up at early again. Leisurely lunches eaten when hungry now require planning and packing. And homework? Yes, it's time to start that drill too. For most kids, the Christmas break was likely to have been an enjoyable, fun-filled time with friends and family. However, there are some kids who may have been affected by a traumatic experience, tough times or family difficulties.
Understandably, these experiences are big events for young people to cope with. The pressures of going back to school can make these situations even harder to manage. Children may seem to cope okay with these events over the holidays, but then struggle to cope once the extra pressure of school is added to the mix.
In the lead up to the start of school there are some helpful tips to make the transition back to school life bearable for both parents and children.
Ask them how they feel: Discuss the new school year and what they are excited about and anything they are worried or concerned about. Open communication is key.
Get prepared sooner: Don't wait until the last-minute to check whether everyone has what they need for the first day. When children know they are prepared this will help them relax. (That could mean a hat or something special for show & tell).
Be available on the day: This could mean walking them to school on their first day back. Or maybe they would like you to walk them to their classroom. It never hurts to offer.
Take a moment for yourself: By parents being calm on the morning of the first day will increase the chances of the child being calm. Remember – kids follow our example.
Back to early bed-times: After two months of going to bed and getting up whenever they want, kids need to get back on a schedule, one that often involves waking up early. How to you get them to do that?
One week before school starts, move their bedtime back by 15 to 30 minutes at a time until you reach something more school-friendly. Once school starts, bed-times return to usual school times and use the first few weeks of school to assess your child's level of tiredness as they adjust to new demands at school.
Avoiding the morning rush: For many families, the toughest hurdle is getting kids out the door on time. This is especially hard if you have to get ready for work as well.
The key is to get organised the night before, with backpacks ready, clothes laid out and lunch planned (if not made). It's important that the kids know what time they'll be woken, what time they're expected downstairs for breakfast and to get shoes on, and what time they'll leave the house.
Packing a healthy lunch: Sending kids to school with a nutritious lunch isn't always easy. Be aware of your school's rules around nutrition – is there a child in your child's class with a serious food allergy? Be aware of the school tuckshop prices and the type of food provided.
In keeping these ideas in mind – you and your kids should settle quickly back into the daily grind of school life. However, while it will take most kids up to a couple of weeks to settle back into the routines of school, some kids may take longer to get used to school again. Some indications that your child may be struggling to settle in include ongoing:
Irritability, or difficulties managing emotions
Relationship difficulties with friends, peers and teachers
Disruptive behaviour in classes
Loss of motivation in school and after-school activities
Reluctance to go to school
If you notice these behaviours and they seem out-of-character for your child then consider speaking to both your child about the changes you have observed but also their classroom teacher or guidance officer at school.
Be patient and attuned to your child's needs and encourage them to discuss their concerns or worries about school with yourself. A consistent approach between you and your child's school is the best way to bring about changes over time.
It can be tempting to keep your child at home if you notice that they are struggling to cope with the transition back to school. However, it's important to remember that continuing to take your child to school provides them with a predictable and 'normal' routine, which can help them to feel safe and secure. It is also important to remember that avoidance often perpetuates or maintains the problem. It will be more helpful to support your child to attend school rather than allowing them to avoid or stay home.
If issues continue extra support may be needed from a psychologist to assist a child to adjust and manage new challenges and perform to the best of their ability.